One of the reasons you live in Alamo is the beautiful sunny weather. The downside is…it's hot. You may have a pool or run the A/C to cool off— and both of these use a lot of electricity and can cost a fortune. That same beautiful sunshine can save you a lot of money.
Dramatically reduce your monthly utility bill by harnessing the sun's free energy to power your home or business, charge electric vehicles, and even heat your pool.
Luckily, in Alamo CA, our abundant sunshine makes going solar ideal.
At Sky Power solar, we pride ourselves in helping people just like you in Alamo go solar. Keep reading to learn more about our solar solutions built with you in mind.
Residential Solar Installations
Installing solar on your home won't only reduce your energy bills, but it will increase the value of your home in Alamo, CA.
Solar Financing
With our affordable low interest financing solutions, you can go solar with $0 upfront costs and low monthly payments. Then, you can use your monthly PG&E savings to pay down your loan. After it's paid off, all electricity provided by your solar panels is 100% free.
The Federal Solar Tax Credit
Sky Power Solar customers qualify for a 26% tax credit from the federal government for installing solar in Alamo, CA. Because of this, your cost becomes 26% cheaper, bringing you major savings.
Solar for Electric Vehicles
Why visit the pump when you can power your clean electric vehicle with clean solar energy? Sky Power Solar looks at your driving habits and installs systems based on your needs.
SunPower Solar Panels
As the local SunPower Elite Dealer serving Alamo, we pride ourselves in offering the bestsolar panels on the market. With the ability to produce 30-40% more energy per square foot than other panels, SunPower panels are our top choice when installing solar for your home or business.
Getting Started With Solar
If you live in Alamo, CA and are interested in the benefits of going solar, click here to request a free quote with Sky Power Solar today.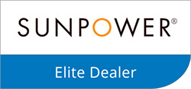 As your local SunPower Elite Dealer in the East Bay, we're proud to offer you solar panels with the highest efficiency in the industry.