That same sun that produces Livermore Valley award winning wine can also make it very expensive to cool your home in the hot Livermore summers. When it comes to powering your home or business, heating your pool, or charging an electric vehicle, you probably dread opening your utility bill each month. Let us help you love opening your utility bill to see how much you've saved with solar.
With prime conditions for solar power in Livermore CA, you're looking at an opportunity to save money month after month.
At Sky Power Solar, we're prepped and ready to help you take that next step. Continue reading below to see how you can get started today.
Residential Solar Installations
Are you ready to start reducing your Livermore home's utility bill? Sky Power Solar has the residential solar solutions to help you reach your goals of lower bills, reducing your carbon footprint, and the possibility of increasing your home's value.
Commercial Solar Installations
Is your Livermore business considering solar? There's never been a better time than now to install solar for your commercial building. Why? Utility rates are on the rise, and they're charging you the most when it's the sunniest outside. Let us help you change that with solar.
Solar Financing
Our simple solar financing options don't require any money down, and your low monthly payments are paid with your solar savings. Once paid off, all energy your new solar panels create is free.
The Federal Solar Tax Credit
The 26% federal solar tax credit is given to those that own their solar system through either a loan or straight cash purchase. This incentive provides you with a 26% reduction in the cost of your system.
Solar for Electric Vehicles
Electric vehicles are on the rise here in Livermore, and so are utility rates. Combining your EV and solar panels on your roof is a great way to reduce your bills even more.
SunPower Solar Panels
Sky Power Solar is your local SunPower elite dealer in Livermore, CA. With SunPower panels, you'll benefit from some of the most efficient panels on the market. You'll also get a strong 25 year warranty that includes parts, reinstall costs, and shipping expenses.
Ready to Talk Solar With Us?
Are you a Livermore CA resident or business ready to install solar? It's easy to get started with Sky Power Solar, just click here to request your free quote now.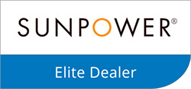 As your local SunPower Elite Dealer in the East Bay, we're proud to offer you solar panels with the highest efficiency in the industry.