Take advantage of the sun by installing solar with Sky Power Solar.
As your local SunPower Elite Dealer, Sky Power Solar has many options to help you start saving money from roof mount or ground mount solar, to solar for electric vehicles or pool heating, to affordable solar financing options. Fill out the form below to request your free site evaluation and quote today.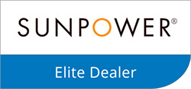 As your local SunPower Elite Dealer in the East Bay, we're proud to offer you solar panels with the highest efficiency in the industry.
Sky Power Solar has been a Diamond Certified Installer since 2006. The Diamond Certification honors firms that have achieved excellence in their field.

Giving Back:
Sentinels of Freedom
Headquartered right here in San Ramon, the Sentinels of Freedom is committed to helping severely wounded veterans realize their goals and dreams. Sky Power will donate $100 for every completed project to support this important mission.
Berkeley Lab Illuminates Price Premiums for U.S. Solar Home Sales