In Pleasanton, our beautiful sunshine brings us hot weather and high PG&E bills. But did you know that it can also save you tons of money with solar? 
Have you been searching for solar power in Pleasanton CA? You've come to the right place. Sky Power Solar has built the solar solutions you've been looking for to power your home or business, heat your pool, and even charge your electric vehicle. 
Since Pleasanton has generous sunshine, you can expect to save on your energy bill month after month with solar. 
Continue reading to discover our top notch solar solutions built with you in mind. 
Residential Solar Installations
Ready to see the benefits that solar can bring your home in Pleasanton? Sky Power Solar has the experience and tools to deliver the top notch solar solution you've been searching for.
Commercial Solar Installations
Sky Power Solar has innovative commercial solar solutions designed to combat ever-rising PG&E costs. With top of the line products and over a decade of experience, we're prepared to help your Pleasanton business install a professional high quality solar system.
Solar Financing
Have you been searching for a solar financing solution in Pleasanton CA for $0 down with low monthly payments? Sky Power Solar has your answer. With our solar loans, you use your monthly PG&E savings to pay off your balance. Once it's settled, your solar power is 100% yours, and you'll enjoy savings month after month.
The Federal Solar Tax Credit
Get a 26% break in the cost of your system with a federal tax credit when you purchase your system from Sky Power Solar.
Solar for Electric Vehicles
Are you driving an electric vehicle? Combine your electric vehicle with solar panels to increase your savings and further reduce your carbon footprint.
SunPower Solar Panels
As the local SunPower Elite Dealer serving Pleasanton, we recommend SunPower solar panels for the best results. Backed with an unbeatable 25 year warranty, the highest efficiency numbers on the market, and a great look, SunPower solar panels are the best in the business.
Start Exploring Your Solar Options
Ready to get started with solar power in Pleasanton? Request a free solar quote from Sky Power Solar today to begin your solar journey.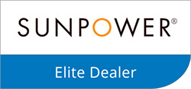 As your local SunPower Elite Dealer in the East Bay, we're proud to offer you solar panels with the highest efficiency in the industry.