Clayton has beautiful sunny weather, and it may even be one of the reasons you live here. However, it gets hot here! To keep cool, you probably have a pool or run your air conditioning—which can really affect your PG&E bill. But, that same sunshine can save you money. 
It's time to stop over-paying your utility company and start taking advantage of the sun's free energy to power you home, charge your electric vehicle, and even heat your pool.
With our generous sunshine and mild climate here in Clayton CA, our area has excellent conditions for solar. 
At Sky Power Solar, we're proud to provide Clayton with affordable solar options to harness the power of the sun and reduce energy bills. Continue below to see our solar solutions available in Clayton, CA.
Residential Solar Installations
When you install solar with Sky Power Solar, the Clayton area's trusted solar installer, you can rest knowing you're on your way to lower utility bills and a reduced carbon footprint.
Solar Financing
If you're searching for an affordable solar solution in Clayton, Sky Power Solar has simple options for you to go solar for $0 down. Your electric bill savings go towards your loan payments and once your system is paid off, all panel-produced electricity costs you nothing.
The Federal Solar Tax Credit
If you purchase and install solar with us, you'll be eligible for a 26% tax credit from the federal government—making solar even more affordable. And, there's no limit to the amount of credit you can receive.
Solar for Electric Vehicles
Do you drive an electric vehicle and want even higher monthly utility bill savings? Charging your electric vehicle with solar allows you to reduce bills, trips to the gas station, and your carbon footprint.
SunPower Solar Panels
If you're looking for the best solar panels in Clayton, you've come to the right place. As your local SunPower Elite Dealer in Clayton, Sky Power Solar proudly installs SunPower solar panels which are some of the highest performing in the industry. They also have a strong 25 year warranty that includes parts, any required reinstallation costs, and shipping.
Starting Your Solar Journey is One Step Away
Ready to start saving with the top solar panels in Clayton? Click here to take the first step with a free solar quote from Sky Power Solar.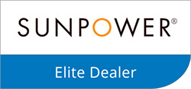 As your local SunPower Elite Dealer in the East Bay, we're proud to offer you solar panels with the highest efficiency in the industry.