Do you spend a lot of money trying to stay cool in Condord? Have you been thinking about going solar? Now's the time to start taking advantage of the sun's free energy to drastically reduce your monthly PG&E bill.
With ample sunshine and our mild climate in Concord, CA, we have prime conditions for solar.
As a local installer, Sky Power Solar is proud to provide you with many affordable solar options to reduce your utility bills—keep reading to learn more.
Residential Solar Installations
Interested in installing solar power on your home in Concord? With over a decade of experience and a goal of reducing your monthly PG&E bill, Sky Power Solar is your area's trusted residential solar provider.
Commercial Solar Installations
Businesses just like yours in Concord are seeing a rise in sales after they took energy efficiency measures like installing solar. Not only did they see a rise in sales, but they have lower utility bills, allowing them to reinvest more in their businesses. Sky Power Solar has commercial solar solutions built with you and these goals in mind.
Solar Financing
Sky Power Solar's affordable solar loan solutions allow you to go solar with low monthly payments and $0 upfront costs. Your monthly payments come from your utility bill savings and once your loan is settled, all power produced by your solar panels is free.
The Federal Solar Tax Credit
In addition to our easy solar financing solutions, you'll qualify for a 26% federal tax credit. You can think of this credit as real money, and it makes going solar more affordable than ever.
Solar for Electric Vehicles
Electricity rates are on the rise in Concord, and if you have an electric vehicle, you may be paying way too much for charging it. Why not use the sun to power your car? Sky Power Solar provides solar for electric vehicles that is designed based on your needs and driving habits.
SunPower Solar Panels
As the local SunPower Elite Dealer in Concord, we want our customers to have the best solar panels in Concord—our solution is SunPower solar panels. With long lasting efficiency, a performance guarantee, and sleek design, it's a clear choice when installing the best for our customers.
Your Next Step
If solar sounds like a good fit for you, or you just have some questions, click here to request a free quote for solar power in Concord now.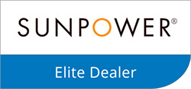 As your local SunPower Elite Dealer in the East Bay, we're proud to offer you solar panels with the highest efficiency in the industry.