The Largest Bean Sprout Producer in the US Sets Their Solar Array Afloat
Salad Cosmo is saving an estimate $128,000 per year by floating a solar array on their Dixon,  CA irrigation pond.
DIXON, CA January 9, 2019 - You've no doubt seen solar panels mounted on the roofs and in the fields around the Tri-Valley area. But what about a solar array floating on an irrigation pond?
Salad Cosmo, the US leader in environmentally friendly bean sprout production, partnered with the leading provider of high-performance solar solutions at Sky Power Solar to install a 607 kW system that floats on the manmade irrigation reservoir. This floating solar array is made up of 2208 Mitsubishi 275w modules that are floating on a CIEL & TERRE HYDRELIO floating racking system (pictured below).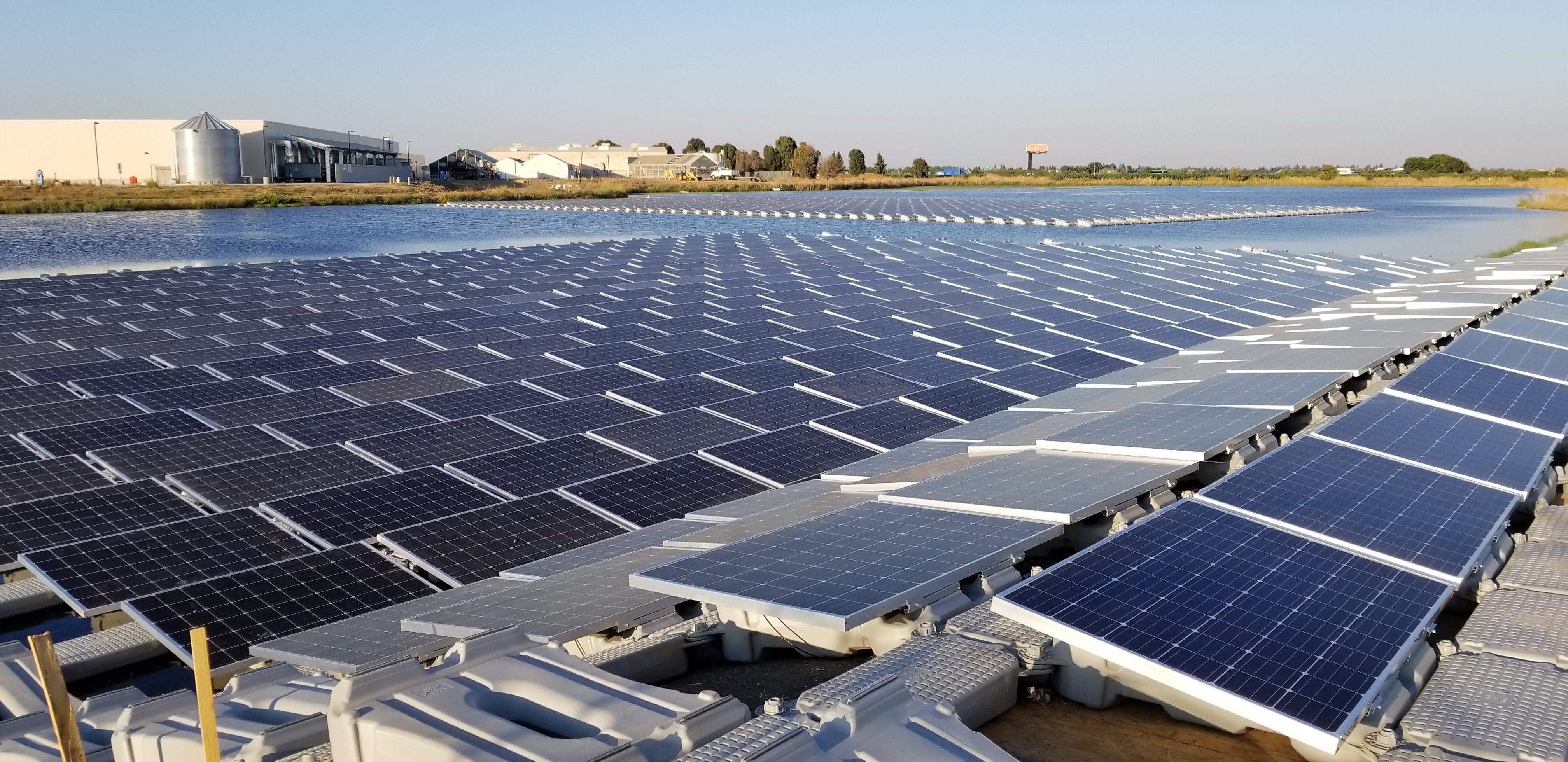 The modules are connected to 8 Solectria 60kW 480V Inverters and will generate an estimated 953 megawatts a year, which is half of the yearly energy usage at this Salad Cosmo production facility.
Why A Floating Solar Array?
For most, solar photovoltaic (PV) panels are best mounted out of the way, on a roof or an unused piece of land. But for Salad Cosmo, most of the land is accounted for, and the roof just wasn't big enough. The solution: use the irrigation pond. It's really under-utilized space. The National Renewable Energy Laboratories believe that 10% of all the electricity required in the US could be covered by floating solar on man-made reservoirs, and the very first claimed floating PV system was installed just up I-80 in Napa Valley.
Keeping Their Greens Green, While Saving Some Green Too.
Salad Cosmo has maintained a commitment to environmentally friendly bean sprout farming, which is the reason for collaborating with Sky Power Solar on their commercial solar installation.
They use recyclable materials for their packaging, and any food waste is composted and put back into the fields. Their irrigation water is also sustainably recycled. The only part of their operation that was not green quite yet was their electricity – and going solar ended up saving them some green, too. This floating system will cover half of their energy costs per year, saving them $128,000 annually. Over the 25 years the system is expected to last, that's a total savings of $4.6 million!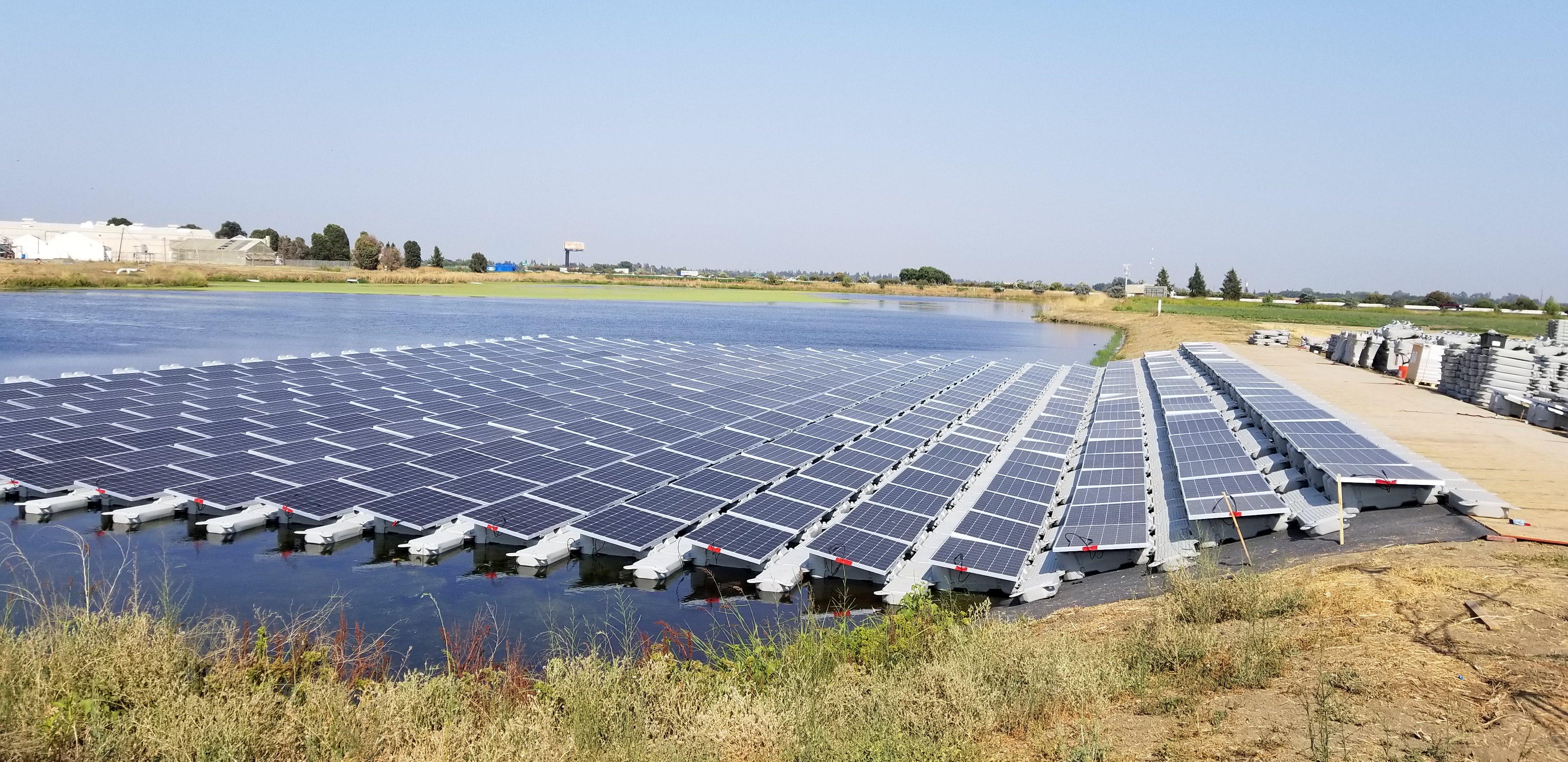 About Sky Power Solar
Based in San Ramon, CA, Sky Power Solar is the leading expert in green energy solutions for the Bay Area. Sky Power Solar specializes in professional design and Diamond Certified installation of residential and commercial rooftop solar, as well as in ground-mounted systems, affordable financing, solar pool heating, green incentives, solar charging for electric vehicles, and floating solar arrays.
Contact Sky Power Solar today, or call (925) 202-2783 to schedule your appointment!
Project Facts
Location: Dixon, CA
System Size: 607 kW Floating Solar Array
Yearly savings: $128,000
System Lifespan: $4.6 million