San Ramon has been our home town since 2005! Whether you want to power your home, charge your electric vehicle, or heat your pool, using free energy from the sun can help you dramatically reduce your monthly utility bill.
This is especially true in San Ramon, California – a region whose Mediterranean climate and abundant sunshine make it ideally suited for harnessing solar energy.
At Sky Power Solar, we specialize in helping customers throughout the San Ramon Valley go solar affordably. Below are just some of the sun-powered solutions we offer, complete with links if you want to learn more.
Residential Solar Installations
When we install solar photovoltaic (PV) panels on your home, you benefit from lower monthly PG&E bills and a much smaller carbon footprint. As an added bonus, going solar with us can also increase the resale value of your home.
Commercial Solar Installations
Standard business hours are precisely when grid electricity is most expensive – and solar power is most abundant. By going solar today, you benefit from lower PG&E bills and reduced operating costs. This means more savings to reinvest in your business.
Many of our clients also report higher sales. That's because customers increasingly prefer doing business with those who take environmental protection seriously.
Solar Financing
We offer a range of low-interest solar loans to help you pay for your system. With our affordable financing solutions, you benefit from $0 upfront costs and low monthly payments. You can use your PG&E savings to pay down the balance until the loan is fully settled. Thereafter, all additional solar electricity is 100% free.
With this approach, your installation becomes a clean power investment that pays for itself.
The Federal Solar Tax Credit
With this incentive, you qualify for a 26% tax credit from the federal government when you install solar panels. As a result, the total cost of your system becomes 26% cheaper than it would normally be.
This tax credit is available to all Sky Power Solar customers who make green improvements to their homes or businesses.
Solar for Electric Vehicles
Why buy expensive gas when you can drive on pure sunshine? Rather than plug your electric vehicle (EV) into the utility grid, you can charge it using clean and free solar power instead. This means:
Higher monthly savings.
Less overall pollution.
Fewer trips to the gas pump.
SunPower Solar Panels
As the local SunPower Elite Dealer in San Ramon, we recommend SunPower's premium line of modules. That's because they offer the:
Greatest efficiencies (i.e. highest savings).
Strongest warranties (i.e. longest savings).
Ready to Explore Your Solar Options?
If you live in San Ramon and would like to learn more about the financial and environmental benefits of going solar, request a free quote with our expert installation team today.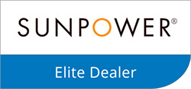 As your local SunPower Elite Dealer in the East Bay, we're proud to offer you solar panels with the highest efficiency in the industry.