Most solar panels are a commodity. They're mass produced using the same basic manufacturing technology.
However, SunPower's premium line of solar photovoltaic (PV) modules is different.
Thanks to its unique design and production processes, SunPower consistently manufactures the world's most efficient, durable, and aesthetically pleasing solar panels in the industry.
Let's take a look.
1. Higher Efficiency
Once installed on your rooftop, SunPower solar panels are able to generate 26% to 40% more energy per square foot than traditional modules can.
Over the 25 to 40 years of your solar installation's lifetime, these higher efficiencies can translate to thousands in extra savings. This is money that you can invest in other things – like retirement, vacation, or your children's college education.
SunPower's Power Guarantee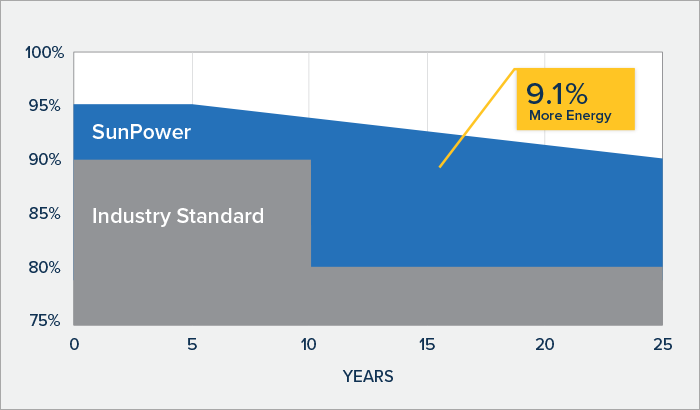 2. Warranty Protection
SunPower panels' unique design and unmatched durability ensures that your installation will continue delivering peak energy output for many years to come. SunPower backs up this performance with an industry-leading warranty:
All of their solar panels come with 25 years of comprehensive coverage. This protection includes replacement parts, reinstallation costs, and even shipping – which is unique within the industry.
SunPower's warranty also has the lowest annual degradation rate of solar panels on the market.
SunPower Solar Panels Product Warranty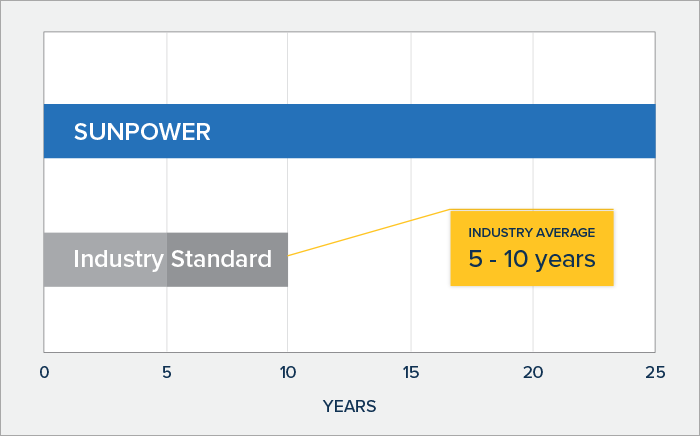 What the SunPower Warranty Covers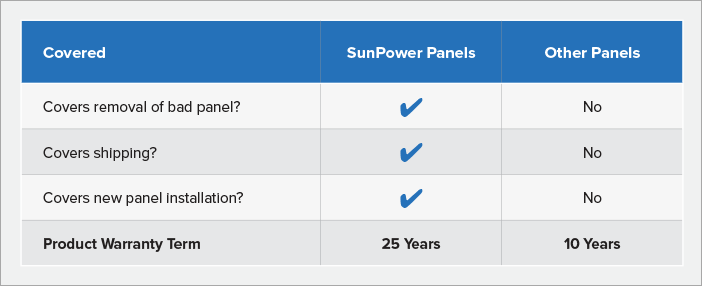 These benefits alone make SunPower an obvious favorite. However, there is one more advantage worth mentioning.
3. Aesthetic Designs
Don't like the look of tacky blue solar panels with silver frames?
No worries.
SunPower's unique, all-black design looks better than anything else you can put on your roof. These sleek, high-performance panels mean you don't have to compromise the natural beauty of your home.
To learn more about why we prefer using SunPower panels, contact our expert today for a free solar quote.
Ready to Get Started?
Click the button below to schedule a no-obligation appointment with us to learn more about going solar with SunPower panels.
Schedule an Appointment Now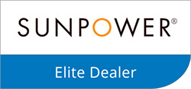 As your local SunPower Elite Dealer in the East Bay, we're proud to offer you solar panels with the highest efficiency in the industry.