Bob
Winn
Our President, Bob Winn brings over 40 years of business management to Sky Power Solar and a vision focused on enabling a future powered by economical, clean solar energy. Bob is a graduate of the University of Virginia School of Business and has lived in the Bay Area for 40+ years.
Tim
Cruse
Our Director of Operations, Tim Cruse brings extensive solar and electrical experience to the Sky Power Solar team. Tim has been in the construction business all his life and is a Licensed Electrical Contractor. He knows how to get things done! Tim has spent his entire life in East Contra Costa and lives there now with his wife and two children.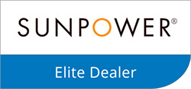 As your local SunPower Elite Dealer in the East Bay, we're proud to offer you solar panels with the highest efficiency in the industry.