Lamorinda's beautiful sunny weather attracts many people like you to living here. But there is one downside, the heat! With the heat comes high PG&E bills from using your air conditioning or even a pool. But did you know that you can use the sun to reduce your high bills?
Electricity rates are on the rise, and we're expecting a steady increase year after year. What can you do to combat these ever-rising rate hikes? Solar may be your option.
In the Lamorinda area, we've got optimal conditions for going solar, what are you waiting for?
Sky Power Solar is proud to offer Lafayette, Moraga, and Orinda CA with affordable solar solutions to help people just like you avoid future rate hikes. Keep reading to discover how.
Residential Solar Installations
When you install solar on your home in the Lamorinda area with Sky Power Solar, you'll benefit from lower monthly utility bills, a smaller carbon footprint, and an increase in your home's value.
Commercial Solar Installations
Why do you see solar popping up on so many Lamorinda rooftops? With never ending utility rate hikes in sight for businesses, going solar is a great way to reduce your electric bills. In addition, with climate change on their mind, Lamorinda customers are flocking to these green businesses.
Sky Power Solar's commercial solar installations are built with these factors in mind and with the end goal to reduce your electric bill month after month.
Solar Financing
Did you think going solar was financially out of reach? With our easy solar financing options, it's simpler than ever to get started with solar. Just apply your solar savings to your low monthly loan payment and once settled, all solar-produced electricity is free.
The Federal Solar Tax Credit
When you finance with a solar loan or purchase your solar system with cash, you'll qualify for a 26% solar tax credit. This is a huge savings to you and a dramatic reduction to your overall solar cost.
Solar for Electric Vehicles
If you're driving an electric vehicle but constantly going to the gas station, you could be saving money by charging your vehicle with solar. Sky Power Solar's electric vehicle charging solutions are designed to fit your needs and based on your daily driving habits.
SunPower Solar Panels
In the Lamorinda area, Sky Power Solar is your local SunPower Elite Dealer. With long-lasting, high efficiency solar panels and some of the strongest warranties in the industry, SunPower solar panels are our preferred option to provide our customers with the best results.
Solar Pool Heating
Using your existing pool pump, Sky Power Solar's pool heating solution reduces your utility bill costs and extends swimming season.
How to Get Started With Solar
If you live in the Lamorinda, Lafayette, Moraga, or Orinda area and are ready to start saving month after month on your utility bill, click here to request a free quote today.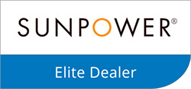 As your local SunPower Elite Dealer in the East Bay, we're proud to offer you solar panels with the highest efficiency in the industry.