Referrals have always been an important part of our business. As a client, we hope that your solar system exceeds your expectations and that with your positive experience with Sky Power, you would recommend us to your friends, relatives, neighbors, and colleagues.
Here's the offer:
If you know of anyone who has a home or business in the East Bay or the Peninsula and is looking to go solar and we install a solar system for them, we will pay you a referral fee of $500. Plus, we'll give them $500 off their system, too! Even if you're not an existing client, the offer still applies... only it is $250 to you and $500 to your friend -- a little extra cash in your pocket can't hurt!
Simply complete the information below and we will forward an e-mail to them (so that we can keep track of your referrals).
Fill Out the Form Below to Get Started!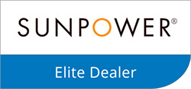 As your local SunPower Elite Dealer in the East Bay, we're proud to offer you solar panels with the highest efficiency in the industry.