We could tell you a lot about going solar with Sky Power Solar. But only our customers can truly tell you what it's like to work with us. From a custom designed solar system to offset your business carbon footprint, to residential solar panels that send your electricity meter running backwards, read what real Sky Power Solar customers liked best about their experience of going solar here in the the Tri Valley area.
"I am completely satisfied with the professional workmanship and the excellent communications that I had with the Sky Power Solar team. Telephone calls were promptly returned, and appointments were all kept and on time.
"By the way, we love it, you guys did a wonderful job."
"We were very pleased with Sky Power Solar's responsiveness to our questions and concerns during the entire process, starting from the estimate all the way through to deciphering the digital display of our new PG&E Time of Use (TOU) meter which told us we were...
Read More
D. Mineau and D. Gibson, Menlo Park, CA
"Thank you! We had a stellar day today. Thank you for great customer service. We just love the system and are very pleased."
"Thanks for the solar power system. I am happy with it. Currently, my electricity is free. Your company did a good job and I am pleased."
E. Ballou, El Sobrante, CA
"Thank you very much for the very well executed project! We would love to be a reference for your company."
"We are excited about our solar power. My daughter and my husband love watching the meter run backwards."
J. Drabek, (Sierra Club staff member), Oakland, CA
"Thanks for being so good to work with."
"Fast work and looks great. Love the system."
J. Tibbetts,, San Pablo, CA
"I was the first to have solar electric in my city. Shortly after I had my system installed, the City of Manteca did so with a system of their own. I am very pleased with my solar electric system. My wife and I are even looking at a hybrid electric car."
"It makes us really happy to be using the power of the sun. The system is meeting the projected monthly performance goals provided by Sky Power Solar. We highly recommend Sky Power Solar -- their team was great."
L. Busby and J. Diane, Livermore, CA
"We interviewed three solar electric companies before choosing Sky Power Solar. The Sky Power Solar team educated us about solar electricity, answered our questions, and did an excellent job designing and installing our system."
M. and O. McFarland, San Rafael, CA
"Our project went as planned, on schedule and within budget. Our only surprise is how well everything worked. We now have more free power than we need!"
R. and J. Cooley, Pleasanton, CA
"We feel great having our own solar electric system which gives up independence from PG&E and dependence on the sun which will forever shine. Hopefully our neighbors will join us so eventually we can create national and local autonomy from big business and wars over energy."
S. and E. Kingore, El Sobrante, CA
"Sky Power Solar was a pleasure to do business with. They explained everything and answered all my questions. They gave a very competitive quote and delivered exactly as promised. Go solar!"
T. Hughes, North Berkeley, CA
"Working with Sky Power Solar was effortless. I could not be happier with the service and the results. I am amazed! Everyone should be going solar because it's now cheaper than paying PG&E. Seeing the meter go backwards is wonderful!"
"Thank you very much for the work you and your crew did here."
T. Reinhardt, Woodside, CA
"What made us select Sky Power Solar was their professionalism and attention to detail -- and of course -- their pricing! From the time we signed the contract, we had nothing but smooth sailing -- a prompt and perfect installation, a no-problem inspection, and trouble-free operation ever since...
The D'Costas, Castro Valley, CA
"I would recommend Sky Power Solar to anyone. They not only built us a system that knocks the heck out of our power bills, but also fits in wonderfully with the aesthetics of our house and garden. We couldn't be more pleased."
"Sky Power Solar made the transition to solar electricity seamless, trouble-free and satisfying!"
Wondering if your roof is the perfect place for solar panels?
Our experts will design the perfect solar system for you.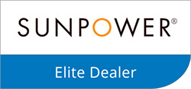 As your local SunPower Elite Dealer in the East Bay, we're proud to offer you solar panels with the highest efficiency in the industry.